Warm up: Human Pinball
Skill: POSE, Back Extensions, Situps
WOD: Michael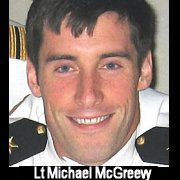 In honor of Navy Lieutenant Michael McGreevy, 30, of Portville, NY, who was killed in Afghanistan June 28 2005.
3 Rounds for Time
800 meters
50 Back Extensions
50 Sit-ups
Cool Down: Super Couch, Peanut back Stretch
Warm up: 5 min. Jump Rope, 1 min. max Double Under
Skill:  Deadlift, Chin Up, Push Jerk
WOD:
A. Deadlift  6 x 1 @ 90%
B. AMRAP 12 Min.
4 Push Jerk (135/95)
8 Chin Ups
12 Air Squats
Cool Down: Hammie Mob.
Warm up: Med Ball Wheel Drill x7
Hub-Log Toss, Spokes- Lunging Puts, Superman, Sit Up Throw, Around the World
Skill: Review movements
WOD: For Time
70 Squat Jumps
60 Kettlebell Snatches (53/35)
50 Burpees
40 Toes 2 Bar
30 HR Pushups
20 Pullups
10 HSPU
Cool Down: Goat Hunting Mobility Work
Warm up: 5 min. SMR, easy 400m row, Boat Races (each team member rows 3 x 200m legs, on deck person holds plank)
Skill: Pullups, Racked KB/DB Walking lunge,
WOD: For Time
20 Pullups / 20m Rack Walking Lunge (2×53, 2×35) / 20m Bear Crawl
15 Pullups / 20m Lunge / 20m Bear Crawl
10 Pullups / 20m Lunge / 20m Bear Crawl
5 Pullups / 20m Lunge / 20m Bear Crawl
Cool Down:  Plyo Pigeon
Warm up: Pond Run, Red Band Squat Prep
Skill: Back Squat, KB/DB Clean and Push Press,
WOD:
A. Back Squat 5 x 5 @ 73% (men 10# more than last week, women 5# more
on 2 minute interval
B.  4 Rounds For TIme
400m Run
12 OHS (95/65)
cool down: Green Band Overhead Drills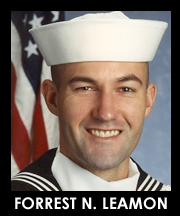 U.S. Drug Enforcement Administration Special Agent Forrest Nelson Leamon, 37, assigned to the Foreign-deployed Advisory and Support Team (FAST) Echo was killed October 26th, 2009, while on a counternarcotics mission in Western Afghanistan when the helicopter he was in crashed.
He is survived by his wife Ana, his son Luke, his parents, Sue and Richard Leamon, and his sister Heather. 
First posted October 17 2010
Warm up: Coaches Choice
Skill: L Pullups, Toes to Bar, Burpees
WOD:  3 rounds for time
20 L Pullups
30 Toes to Bar
40 Burpees
800m Run
Partners run together, partition other work as needed, one partner works at a time.
Cool Down: Goat hunting/ Behind the Neck Split Jerk Practice
Warm up: 5 min. Jump Rope, Squat Prep Mob
Skill: Back Squat, Ring Dip, Power Clean
WOD:
A. Back Squat 5 x 1 @90%1RM on a 2 min. Interval
B. Elizabeth
21-15-9 of
Power Cleans (135/95) and Ring Dips
new athletes scale weight and complete 5 rounds of 9/9
Cool Down: Plyo Box Pigeon
Warm up: 14 min of Death by 10m (in early rounds use extra time to mobilize feet, legs, and hips)
Skill:  Pullup, Pushup, Double Under
WOD: 15 min. AMRAP 5 Pullups, 10 Pushups, 15 Double Unders
Cool Down: Calf Mob, Hammies
Warm up: 5 min. SMR, Junkyard Dog x4, x3
Skill: Bear Complex (the bear complex consists of an unbroken 7 reps of the complex- power clean, front squat, push press, back squat, rack jerk-a  squat clean thruster/ back squat thruster is also acceptable at 90+ for women/165+ for men)
WOD: Bear complex- 5 attempts for heaviest load.  rest as needed between attempts.  If barbell is dropped or put down before all 7 reps are completed, that constitutes a fail.
Cool Down: Lax Ball SHoulder/Hip